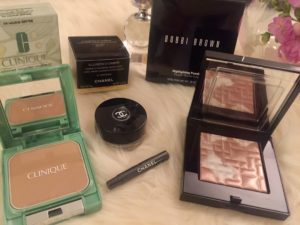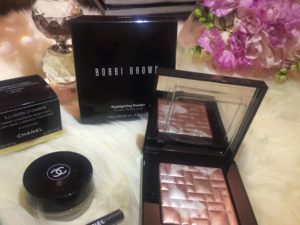 I can not say I'm makeup guru, but I love makeup and with time I'm getting better. I thought it would be cool to share with you my last makeup favorites.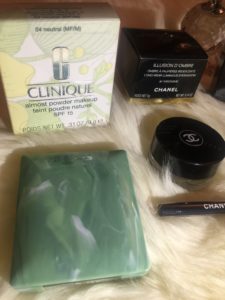 Clinique Almost Powder Makeup is actually one of my beauty essentials. I swear in this mineral powder because I used several packs of it, in the meantime, I tried other products but I always coming back to it again an again. But it is more than minerals. This natural, perfecting "no-makeup" makeup is so lightweight, you'll never even feel it. Long-wear formula helps keep pores out of trouble. Antioxidants and SPF protect skin. It's coming with a brush which I use  to get a fresh, natural look but you could apply with a sponge as well as It is so foolproof.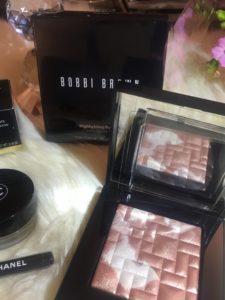 Highlighting Powder – Pink Glow is one of the cult-favorite products of Bobbi Brawn. This high-impact, light-reflective powder gives skin shimmering pink highlights and is ideal for strobing. Plus, it's housed in a sleek, mirrored compact, so you can take your glow to go. Ideal for Light to Medium skin tones. Highlighting Powder creates a radiant yet flattering glow. Plus, the superfine, silky powder applies smoothly and evenly and doesn't settle into fine lines. Using the Face Blender or Sheer Power Brush, lightly dust Highlighting Powder on the cheekbones, décolleté–anywhere you want to add a glow.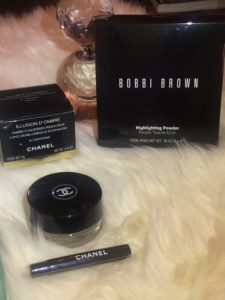 Chanel Illusion  d'Ombre -Fantasme. I'm totally in love with this Luminous Eyeshadow in color Fantasme. It's a silky cream texture with a powdery aspect formulated with a silicone base for a "new-generation" formula with a unique feel. Apply in a monochrome halo or layered for multiple variations. The eyeshadow comes with a tapered brush. This is actually long-lasting eye makeup that can be adjusted according to the desired intensity. Sophisticated, subtle or deep, dressed in iridescent shimmers. Adorable!